Welcome to my homepage!
For those who are interested in what I do:
Something about my work
I did my master in the Institute of Cell Biology at the University of Bern. I'm currently doing my PhD in the same institute in the field of parasitology. We work with the eukaryotic organism Trypanosoma brucei, which is the causative agent of human "Sleeping Sickness" in man and Nagana in domestic animals.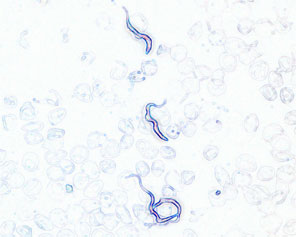 Trypanosoma brucei brucei
About my hobby
My main hobbies are playing chess (not very good) and programming (getting better). To combine the two I started to write my own chess engine called HexChess some time ago. Unfortunately my work takes away most of the time, so the progress is reeeeally slow. Right now, Hexchess has a 0x88 based move generator, alpha/beta search, quiescence search with SEE to reduce the tree, and a very basic evaluation. My main next targets are hashtable implementation and some sort of opening book.
What else?
Still looking for more? Now, what shall I do with you? There is not much more here to see. Perhaps you want to look at some pics in my gallery. Please take a look at the links to the pages of my friends, too.
If you're a chess fan then maybe we will meet on the Internet Chess Club. My handle there is "Sephirot".