The Raymen
The Rebel Years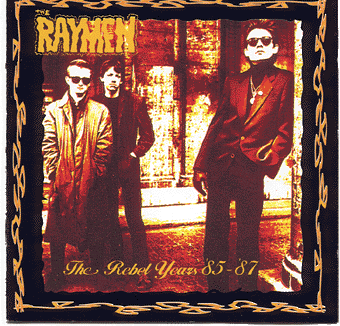 Rebel Rec. SPV 076-45762
1995
Tracklist
Pipeline 1:52
Desert Drive 3:40
Go, Bo Diddley 4:12
It Came From Outer Space 2:18
Real Wild Child 2:12
Ghost Town 2:36
Psychedelic Showdown 2:03
Nowhere Train 3:03
Locomotion 2:40
Death Valley 2:02
Blue Romeo 4:25
Saturn Doll 2:03
River Of Tears 3:01
Walk All Over Me 2:18
Hillbilly Werewolf 1:32
Man From Mars 3:04
Drive My Rocket 1:53
Precious Kisses 2:33
Bad Head Hunter 2:18
Desperate Ways 3:11
Haunted House Upon The Hill 2:06
Alligator Girl 3:09
Down In The Cellar 2:03
Killin' Cats 2:38
His Latest Flame 2:15
Voodoo Baby 3:12
Powder And Lipstick 2:15
Lonely Train 2:15
Wild Wind 3:14
The Holy Jukebox 1:42


Blue Songs from "Death Valley"
Purple Songs from "Desert Drive"
Black Songs from "From The Trashcan To The Ballroom"

Liner Notes
Hi Folks
Here it finally is ...
Hope you have as much fun listening to this collection of Trash-Country-Rock'n'Roll-Punk as we had recording it.
I would like to say "Thanks a lot" to musicians who collaborated with me on these recordings.
And last but not least ...
Very special thanks to all you guys and girls out there who have supported our work through the years.

My Best to You
Hank Ray a.k.a. The Holy Roller

This collection is dedicated to the memory of Dee Dee and Jimmi.
Credits
Tape transfer done by H. Schreiber at SC Sound Recordings - 5/19/95
Mastering done by U. Horbelt at DMS - 6/1/95
This compilation coordinated and produced by The Holy Roller

Cover Concept by The Holy Roller
Layout by Beate Teschner
Photos: SPV Archives

For further song credits go to the corresponding album title.
---
Back to The Raymen's Discography
Back to The Raymen's Homepage

Last changed 28th December, 1999
by Daniel Lerch