København
myTown
On travel to Copenhagen for job reasons, I enjoyed a stay during one week in December 2002.
I was impressed by the beauty of the historical building, the good state and cleanliness, the huge dimension of the walking town centre. This is the Town Hall (Rathaus):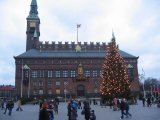 Let's also add the special atmosphere of the city before Christmas, here's a night view of the central Østergade: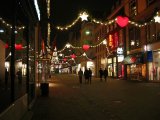 And, surprisingly, it's also a city where we can have a good meal and where it's possible to drink wonderful beers (see here below).
Let's not forget the Tivoli garden with its lights and Christmas stalls; here's the main gate: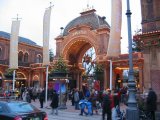 a reproduction of nordic villages, with gnomes: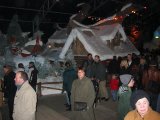 and an oriental palace and restaurant: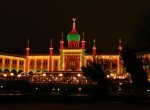 So far, Copenhagen is one of the most beautiful cities I've visited!

Beer sites:
Courtesy of Jacob Lövenlund and Jens Ungstrup
€ Charly's Pub, pub, Pilestræde 33, possibly my favourite pub in continental Europe; they have almost 15 beers on tap (and no bottles); wide selection of cask conditioned/hand pumped ales, some British micro (the lovely Crouch Vale...) and the Danish Brøckhouse;
€ Nørrebro Bryghus, brewpub, Ryesgade 3, the 2nd and most recent brewpub in Copenhagen; they often offer many good beers (5 or 6) and a little choice but very nice food;
€ Den Tatoverede Enke (The Tattooed Widow), pub, in Baron Bolten's Gård (Gothersgade, just before Kongens Nytorv, very well hidden secret); they almost 15 Belgian beers on draught and over 50 on bottle; they have all the trappistes including Westvleteren and Achel; they usually present a couple of beers on tap from the local and exceptional microbrewery Brøckhouse;
€ Apollo Bryggeri, brewpub, Vesterbrogade 3, close to the Tivoli main entrance; till 2003 it used to be the only brewpub in the Copenhagen; 2 beers, one beautiful, aromatic pilsner and a second monthly beer; recently they are less interesting than in the recent past;
€ Ølbarens, pub, Elmegade 2, close to Nørrebro Bryghus, nice selection of bottles and keg beers;
€ Gammel Strands Øl & Vinlager, beershop, between Gammel Strand and Naboløs; they have a very nice selection of good Danish beers, an interesting selection of Belgian, German and World beers, mjød and other spirits; they also have a few good Swedish beers (Nils Oscar Imperial Stout and Barley Wine...);
€ Barley Wine, beershop, Læderstræde 16, very close to Gammel Strand. They don't have Danish beers (I just saw some Brøckhouse's bottles) but many classic Belgian and Dutch beers (smaller selection than Gammel Strand's);
€ Scots the British Shop, beershop, Peder Hvitfeldts Stræde 15 close to Rosengarden, British alimentation and ales (40?).

http://www.ale.dk/indkob.htm
http://www.ale.dk/bryggerier.htm
Restaurants:
in Copenhagen you must try the local speciality Smorrebrød: 3 trays served with butter and bread (smorrebrød), the first tray with fish and harengs, the second with different meats, the third with soft cheese and jam; you may ask a bottle of local Aquavit and serve yourself (watch the price!).
updated: 01-01-2004