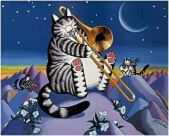 | | |
| --- | --- |
| Dave Davies | |
| | |

THE BRITISH INVASION

"Garage bands" and the increased popularity of the electric guitar, which they fostered, came into being largely as a result of the "British Invasion", circa 1964. But at the time of that auspicious musical awakening, young fans-turned-pickers were most interested not in string gauges, amp cords, and rotating speakers, but in such relevant concerns as which band members were married or single, their favorite colors, and whether they preferred Italian or Chinese food.

The liner notes to the Kinks' second album, Kinks-Size, are full of such insightful tidbits - hobbies, pet peeves, most thrilling experiences.

But hidden in the middle of the group's mini-personality profile, lead guitarist Dave Davies, then of all seventeen, listed some of his "early influences. No doubt the the names meant little or nothing to the record buyers at the time, but the information now provides a unique insight into the the beginnings of one of England's most long-lived and influential units.

Dave Davies' favorites were American bluesman Big Bill Broonzy, jazz guitar innovator Tal Farlow, and British R&B leader Cyril Davies (no relation). Under the category of "favorite composers," Dave further outlines his varied tastes by naming Johann Sebastian Bach, Gershwin, Chuck Berry and older brother Ray Davies.

For an event so crucial in the history of pop music, the "British Invasion" produced little of enduring worth. Out of it, only the music of the Beatles, the Rolling Stones, the Who and the Kinks have lasted; the Searchers, Herman's Hermits, Gerry and the Pacemakers, and all the rest today seem quainter than doo-woop.

The Kinks' inclusion into such a selected group is usually attributed to leader/composer/lead singer Ray Davies, whose songwriting skill is often regarded as second only to Lennon-McCartney. Some supporters, like Ken Emerson, writing in the The Rolling Stone Illustrated History of Rock&Roll, are quick to point out that Ray's 1965 composition "Well Respected Man" revealed a social satirist whose knack for details made commentary such as the Beatles' in "Nowhere Man" seem vapid.

But You Really Got Me, the Kinks' first international hit, was far from a lyrical masterpiece, and harmonically its overriding riff consisted, basically of two barre chords. Today, when using the song on-stage, Ray gives credit to his younger brother for coming up with the sound which set the whole ball rolling... and I claim that was the beginning of hard rock (and heavy metal later)!