myOrlando.com
myTown
Attending another SAP Conference, I enjoyed a stay in Orlando, FL, during one week in March 2003.
As in many cities in the States, a truly European feels lost: no town center! Get a travelers' guide at AAA, choose your restaurants and malls, and get your credit card ready!
Only the last evening we dared hunting a beer downtown, just the time to shoot a nice picture: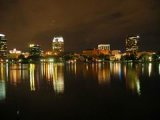 And, a couple of miles Southbound, close to our favorite restaurants, here's a strange building (the photographer was not drunk; maybe the architect...):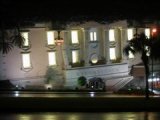 Cape Kennedy Space Center
As big as a Banana Republic, East of Orlando, on a land wrested from the sea as only the Dutch can do, the Cape Kennedy Space Center is situated.
Time to time, between various heavily broadcasted fireworks, they manage to conquer the space.
Anyway, this is far more interesting than the Mickey's parks. Being a dull day, there aren't so many nice pictures to show; a shuttle's butt will make the affair: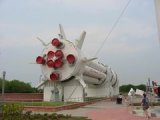 .
Disney's Resorts
Unfortunately for me, the Conference was organized in the heart of the Walt Disney World, look what I think of it: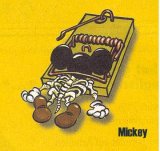 ; ok..., I spent my childhood (and more) reading the wonderful comics, but I can't stand the marketing and merchandising!
Anyway the place is beautiful, and huge (must be as big as Switzerland, at least...); this is a picture shot at the Caribbean Beach Resort, where we were located: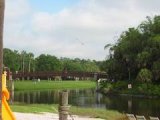 and this is a picture of the Coronado Springs Resort, where the Conference took place: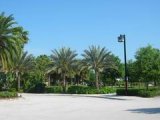 .
In the spare time, we managed to take risks in only one park, maybe the choice was correct: the Epcot.
We could visit a few attractions (Energy Adventure, Canadian 360° movie, "Honey, I Shrunk The Audience",... ) and my opinion is loud and clear: great technologic devices, good design and architecture, poor content!
All around the inner lake, a few countries are represented by some typical buildings, restaurants and unfailing shops (France, Canada, Italy, Germany, Mexico, Norway, ...);
the English village: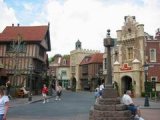 , the Chinese pavilion:
and three survivors (Alex, Thierry, Pierre-Yves) having a quick sushi in the local Japanese restaurant: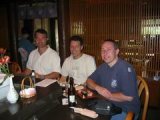 .(to understand their smiles, you should have seen the waitress J).
Daytona
A quick trip to Daytona and its beaches, just waiting for the time to take off.
Sunny day, smell of barbecue everywhere, the beach whipped by the Atlantic wind: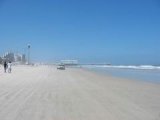 ; we couldn't help notice the highest concentration of police cars we have ever seen, one every 100m, and I was told that the bikers' meeting should have already been over!
Of course we also sneaked into the famous Daytona circuit; here Pierre-Yves is getting roasted under the hot sun: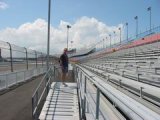 Beer Sites
Forget this part of Florida!
We found one poor brewpub, the Hops Restaurants, a bunch of pubs proposing a limited choice of mainstream English ales and all the rest is just millerscoorsbud (light or regular ;o).
Only one place (inside the Universal Studios) was serving a more than decent Sierra Nevada Pale Ale. Finally, the best beer I could have was just 30 minutes before leaving, in one of the terminals of the International airport (they call it Shipyard Brewpub, but actually the beer is brewed in Maine); the Winter Ale was the right choice for assuring a numb trip back to Europe.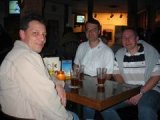 (Thierry, Alex and Pierre-Yves in a place that I won't mention)
I was luckier with the shops; a few beers at Whole Foods (1989 Aloma av., Winter Park) and a better choice at Heart's Homebrew (6190 Edgewater Drive). At least I could grab a few bottles to bring home for the cold days of winter (hey, guys, I still have to drink the last bottle surviving in my cellar since the travel to S. Francisco 5 years ago!).
Restaurants
Are you ready to spend some money? then you can have very good meals; no Mc Burgy's on your road!
Of course in the morning we tried to go the truly American way tasting, at least once, bacon, eggs, pancakes, fakemaplesyrup, muffins, bagels and fruit pie (do you remember those Simpsons' cereals "Only the sugar contains more sugar"?).
But in the evening...
This is a classic T-Bone, at Vito's Chop House (8633 International Drive); believe me, I never had a steak better than this!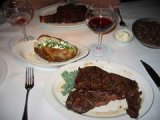 ;
here's a group of hungry terrorists (Dag, Pierre-Yves, Thierry and Alex):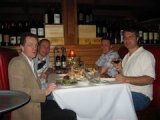 ;
Pierre-Yves and Alex dealing with different kinds of steaks: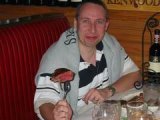 ,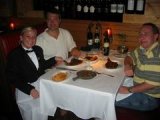 .
We also had a good dinner at Jack's Place (The Rosen Plaza Hotel, 9700 International Drive). In both places be prepared to pay three times more than in Europe for a good red Californian wine!