12cm(4.7") Tesla Coil, 1999 / January
Click on photos for bigger pic !
---

The spark pictures have been taken January 23rd/24th, 1999, by coiler friend Andi Saile, on ASA200 Film.
The state of the Tesla coil, this time, was as follows:
Power supply: Potential transformer 16kV/100V, fed via variac and
Ballast: arc-welder parallel with 4 paralleled 1kW immersion heaters
Protection Filter: 2 x (47mH+3kOhm) and 1nF bypass cap // PT
RQ-gap with 5 active gaps only, corresponding to 3.5mm gapwidth.
Capacitor: 16.8nF double layered epoxy-PCB in transformer oil
Primary: 15 turns saucer (L ~90uH), tapped at 9.5 turns (L ~ 20uH)
Secondary: D=12cm (~5"), H=58.5cm (23"), 921 turns (L ~19mH)
Top terminal: dia.=25cm silver-plated metal sphere, 9cm above coil
Resonance at 275kHz (secondary: 373kHz without top load)
Input power mesured at PT primary, typically: u ~ 60V, i ~15...18A

(Instruments: i:20A Dreheisen Kl.2.5%, u:Metrix multimeter 150V),
so we have 900...1080VA input, which is a lot for the modest
Sparklength: within range of 0.5m...0.75m ( 20"...30" )
---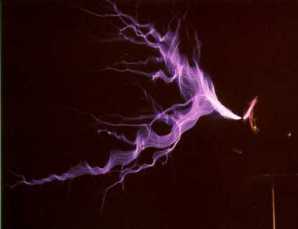 Aesthetically pleasant view of the "banjo-effect".
Sparklength to ground rod d = 0.75m.
Photo 4: f = 5.6, t = 0.5s. (Film is always ASA 200 )

---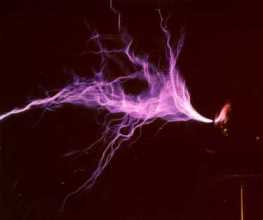 Sparklength to ground rod d = 0.75m, at PT: i ~15A; u ~60V.
Photo 8: f=3.5, t=1s.

---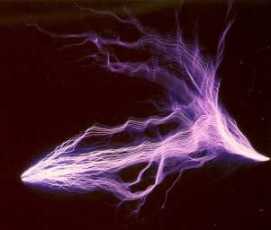 Sparklength to ground rod d = 0.5m, at PT: i ~15A; u ~60V.
Photo 0: f=5.6, t=1s.

---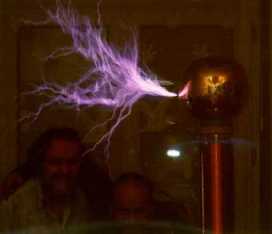 Double exposure: don't try this in reality ! - Andi(right) & me, enjoying TC sparks
Photo 12: double exposure, first: f=5.6, t=1s / second with flash.

---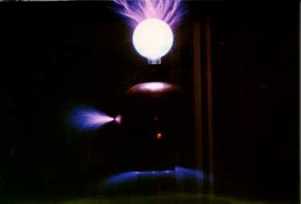 Incandescent lamp in globe form (diameter 120mm), placed on top of secondary terminal
Photo 37: f=3.5, t=0.5s.

---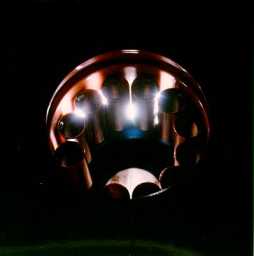 The 5 active gaps of the RQ-gap in action.
Photo 25: f=5.6, t=0.125s.
---
Return to main page
---