IMPULSE. The energy or 'push' derived from the mainspring via the train and the escapement and imparted to the balance to maintain its oscillations. In the Swiss lever escapement, for example, the impulse is the action of the escape wheel tooth on the impulse face of the pallet.

IMPULSE ANGLE. In the Swiss lever escapement, it is the angle through which the lever moves between the first contact of the tooth of the escape wheel on the impulse face and the last.

IMPULSE PALLET. The pallet which receives impulse.

IMPULSE PIN. Alternatively called the 'ruby pin'. In the lever escapement it is fixed into the roller and works in the notch of the fork. On entering the notch it unlocks the escape wheel, receives impulse from the lever and passes out of the notch on the opposite side of the fork. The impulse pin is made of ruby or sapphire - nowadays synthetic - and may be elliptical, semi-circular or half-moon, or triangular in shape.

INDEPENDENT SECONDS. A watch having a seconds hand driven by a separate train. Attributed to J. M. Pouzait, in 1776. The seconds hand in such a watch may be stopped without interfering with the normal functioning of the watch.

INDEX. Regulator. A small lever, the shorter end of which carries the curb pins (q.v.), the longer end passes over a scale to serve as an indicator of any alteration made in the position of the curb pins when regulating the watch by moving the index forwards 'S' or 'R' ('slow' or 'retard') or 'F' or 'A' ('fast' or 'avant').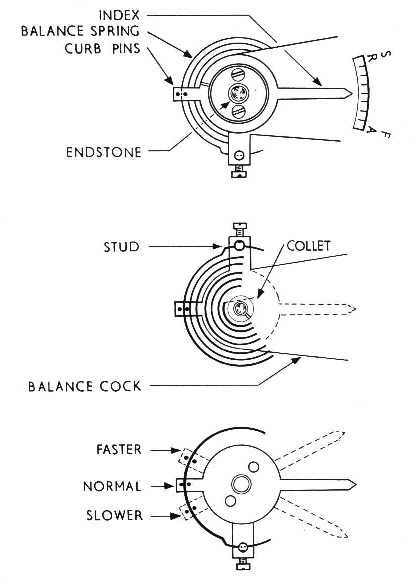 FIG.III. Index

ISOCHRONOUS. Occurring in equal periods of time. A balance would be truly isochronous if the duration of the oscillations were the same whether the arcs were long or short: if the duration of the arcs were independent of the amplitude of swing. The arcs are affected by - among other factors - The position of the balance (i.e. whether vertical or horizontal) and by the impulses delivered by the escapement. The technique of timing consists in achieving the isochronism of the oscillations of the balance. The chief factors that impair isochronism are: the escapement, the play of the balance spring between the curb pins, faulty poising of the balance and its spring. Pierre Le Roy was the first watchmaker to investigate the supposed isochronal pro- perties of the watch balance and spring in 1760.
John Arnold found by experiment that a helical spring can be made isochronous, or very nearly so, by 'incurving' the terminal coils. See BALANCE SPRING.