JACQUEMART. Also called 'Jack'. Strictly, the model figure or automaton which strikes or appears to strike a bell at the hours or quarters. In watches the term is generally applied to repeating watches where figures appear to strike bells but where, in fact, normal repeating work causes hammers to strike gongs. Such watches were popular in France and Switzerland during the early 19th century. Some, not strictly speaking jacquemarts, depict unedifying subjects.

JEWELS. Bearings in a watch movement made of ruby, sapphire, crystal or garnet; in modern watches synthetic jewels are used. Their purpose is to reduce friction and to 'trap' the oil. See Fig. IV. A 'jewel hole' is a stone pierced to take a pivot of a wheel. The chief types of watch jewels are: a flat jewel hole, the hole being cylindrical for a shouldered pivot; a domed jewel with endstone for a conical pivot, the tip of the pivot resting on the endstone; the pallet stones; the impulse pin. In the cylinder escapement the cylinder shell is sometimes a jewel, and is then referred to as a 'ruby cylinder'. Nicholas Facio de Duillier in conjunction with Peter and Jacob Debaufre took out a patent (No. 371) in 1704 for a method of piercing jewels. These watchmakers were French immigrants working in Soho, London. Train jewel holes are exceptional until about 1800, and then only on high grade work.

JUMP-HOUR. An hour hand which jumps forward at the hour, not moving in regular progression.
Often used by Breguet in his repeating watches.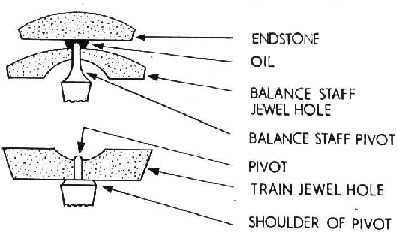 Fig.IV. Jewels


JUMPING-HOURS. Hour numerals that appear through an aperture, and change at each hour. A number of such watches were made on the continent in the earlier part of the 19th century. The idea was revived in wristwatches before the Second World War.

JUMPING-SECONDS. A hand which every second completes one revolution of a subsidiary dial, or which does so in four- or five-second jumps.

KARRUSEL. A type of watch incorporating a device to eliminate errors of rate in the vertical positions. The escapement is mounted on a carriage or cage, the carriage being driven by the third wheel pinion, revolving once in 52- minutes. Invented by Bonniksen and patented in England in 1894. Also see TOURBILLON.

KEYLESS WATCH. A watch which can be wound and the hands set without the aid of a key. Keyless mechanism was perfected at the end of the last century.

KEYLESS WINDING. A watch which can be wound without a key. A variety of systems were evolved during the 19th century, among the first that of Thomas Prest, who took out patent No. 4501 in 1820. See also PUMP-WIND.