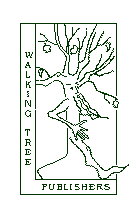 Welcome ...

Who are the Walking Tree Publishers?

Guide to our publications.

Cormarë Series.

Tales of Yore.

Publications planned.

Where can I buy these products?

How do I contact the Walking Tree Publishers?

Contribute as an author

Press cuttings.

Search this website.

Selected links.
---

Contact us if you wish to buy our publications, have queries, suggestions, or comments, or would like to contribute an article:

Note to authors: Do not send any manuscripts or other material postally or electronically unless by arrangement with us. Thank you.


---

This page is no longer maintained and will be removed. The Walking TreE Publishers now have a website on www.go.to/walkingtree



this page last updated 03.10.01
counter added 13.12.99